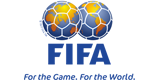 T: +41 (0)43 222 7777
F: +41 (0)43 222 7878
E: Send email to FIFA
www.fifa.com
FIFA (Fédération Internationale de Football Association) is the international governing body of association football, futsal and beach soccer. Its headquarters are located in Zürich, Switzerland. FIFA is responsible for the organisation of football's major international tournaments including the FIFA World Cup.