Sports Construction News
»
Local Authority To Hold Tropicana Exhibition
29th December 2010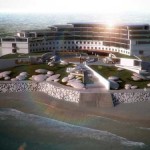 North Somerset Council (NSC) is to hold a public exhibition to allow residents in Weston-super-Mare to comment on redevelopment plans for the Tropicana centre.
Havard Tisdale and the Nightingale Group are the two developers currently in the running to lead the regeneration of the seafront site.
NSC has confirmed that plans drawn up by both firms will be on show at the events, which are due to be held at the Winter Gardens on 21 and 22 January.
Council leader Nigel Ashton said: "What local people tell us at the exhibition, or through their online comments, will be passed on to both bidders so they have the opportunity to further refine their proposals in light of residents' views."
Havard Tisdale's plans - designed by Kay Elliott - were put on show at its own exhibition in the town on 14 December and aims to create a new destination leisure facility.
Peter Tisdale, director of Havard Tisdale, said: "Given the site's history and iconic status, Havard Tisdale is keen to deliver a development that is a worthy heir."
Meanwhile, the Nightingale Group has also staged its own exhibition for its plans for the site, which will reportedly create a new water park for the town.
According to the Evening Post, FaulknerBrowns Architects will lead the design of the Nightingale Group proposals, having been one of four practices initially commissioned to come up with plans for the site on behalf of the group.
Source: sportsmanagement.co.uk