Sports Construction News
»
New £50m Leisure Strategy For Derby
7th December 2010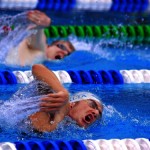 Derby City Council (DCC) has launched a new £50m leisure strategy in a bid to help support regeneration projects across the city.
It follows the unveiling of a £10m regeneration fund, which will support mixed-use schemes and help lever in £85m of private sector investment over a three-year period. The strategy includes the provision of two new 'hub' facilities - a 50m Olympic swimming pool and a multi-use sports, leisure and entertainments venue.
DCC is looking to ensure that it maximises the regeneration potential of the two schemes to help establish a network of smaller facilities across the city. Private sector developers and operators have been invited to meet with council officers in the coming weeks before DCC looks to submit an OJEU announcemt in March.
DCC leader Harvey Jennings said: "This is a statement of the council's intent to play a major and leading role in stimulating the market for development and leisure in Derby.
"We know from experience that there will be many ways in which private developers and operators can deliver our requirements."
Source: sportsmanagement.co.uk