Sports Construction News
»
London Mayor Announces Sports Funding Recipients
6th December 2010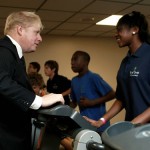 London mayor Boris Johnson has confirmed the 18 sports across the capital to receive a share of £2.4m to help encourage more people to take part in sport.
The latest announcement brings the mayor's total spending in improving sports facilities and participation to £5.4m from a ring-fenced 2012 legacy budget of £15.5m. Three project have received £200,000, including England Athletics' RUN! - an inner-city programme designed to provide events on housing estates and shopping centres.
Active Communities Network and the Rugby Football Foundation are also recipients of the largest share of funding towards their respective efforts to boost participation. Meanwhile, other schemes to benefit include Fight for Peace Academy, Woolwich, which uses boxing and martial arts as part of efforts to tackle social issues affecting local young people.
Johnson said: "Sport brings huge health and social benefits to individuals, communities and this city. This is why I am continuing to do my bit to ensure we maximise the potential of the Olympic and Paralympic Games to increase participation in sports across London."
Source: sportsmanagement.co.uk