Sports Construction News
»
Ian Wright Backs London Mayor In Mentoring Scheme
7th December 2010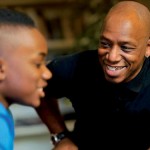 Former Arsenal and England footballer Ian Wright has backed London mayor Boris Johnson's efforts to recruit more male mentors across the capital.
Wright will front a new poster campaign designed to encourage more people to sign up to help make a difference to young people's lives.
Johnson said: "Thousands of young people dream of an illustrious football career like Ian Wright and to have his support on mentoring is tremendous. Ian knows first hand the hurdles mentors face with youngsters who can initially be sceptical but soon unlock their potential with the right help."
Wright added: "The first time I was mentored was by a guy who used to take me to football. The guys I mentor right now include some ex-offenders, and some aspiring footballers, and I tell them, I won't give up on you as long as you're trying to change yourself."
The mayor is also hoping to recruit more mentors at a series of Community Conversations events; the first of which will be held in Croydon on 14 December.
Source: sportsmanagement.co.uk