Sports Construction News
»
Brighton And Hove Albion FC To Expand Amex Stadium
26th April 2012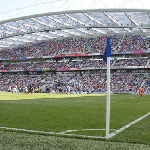 Brighton and Hove Albion Football Club's (BHAFC) plans to expand the Amex Stadium in Falmer, East Sussex, have been given the green light by members of the local authority.
The KSS Group-designed venue first opened last summer and currently has a capacity of more than 22,000, but will now be increased to hold 30,750 over two phases of work.
BHAFC will add 5,000 more seats in the first stage of the scheme, which will be ready in time for the 2012-13 season. A further 500 will then be installed by the end of December. A second phase of work will result in the addition of the remaining seats to take the Amex Stadium's capacity up to its new total during 2013.
Brighton and Hove City Council's planning committee has also awarded planning consent for the club to use retained land at Falmer as car parking to facilitate the additional capacity.
Source: leisureopportunities.co.uk