Sports Construction News
»
Derbyshire Council Decides Name For Matlock Facility
22nd December 2010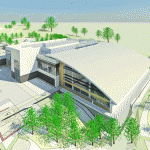 Derbyshire Dales District Council (DDDC) has decided the name for its new £12m leisure complex in Matlock, Derbyshire. Councillors chose the name Arc Leisure Matlock following its "Name It!" campaign launched in October.
Arc was one of six options put forward as part of the consultation. However, a report put before DDDC's community and environment committee also said "a significant number" of alternative options had also been proposed by the public.
'Matlock Leisure Centre' was found to be a "frequent" suggestion among the alternative options put forward by residents.
Source: sportsmanagement.co.uk